Home
Up
LVCUP
Race Analysis
To read the archived Louis Vuitton Cup Finals race analysis (Prada versus America One), click here.
America's Cup 2000
New Zealand (Defender) vs. Prada (Challenger)
Predictions...
How do you predict a series with one boat you have watched for months against a team you have never seen? Well, you guess... I HAVE to think that the Kiwi's are at least as fast as Prada, although the Italians have looked bulletproof, and have prevailed despite their lack of match racing experience. At this point, boat speed has to be very close. The Black Magic crew have watched the trials, and must have a good idea how they match up. Their radical bow and mast/spreader design may give them a slight edge beating to weather but Prada looks good downwind and in light air. I'm betting the Italians are simply outsailed by Russell Coutts and crew. In the end I believe that the Cup stays where it is for the next 4+ years.
New Zealand 5 - Prada 1
---
Race 1 - February 20, 2000
If there was ever any doubt about Team New Zealand, there is no longer. A truly impressive performance, leading wire to wire in a flat-water 9 - 14 knot breeze. Prada has a slight advantage at the start, but NZL60 gets the favoured right side of the course and quickly gains the lead. Once ahead, they never look back - literally. Stretching their lead both upwind and downwind to well over a minute. Prada cuts the lead from well over a minute to 25 seconds by catching a huge shift on the fourth leg, but they would come no closer. All in all, this race was a yawn, never close, no equipment breakdowns, no penalties (or threats of one), and no contest. Kiwi's win by 1:17 and look truly impressive in doing so.
---
Race 2 - February 22, 2000
This one is essentially over before it starts. After a 40 minute delay for shifty winds, Prada enters the starting area on the favoured starboard tack. A couple minutes later, Russell Coutts has pushed Prada far beyond the layline, hooked them with a wonderful spin and gains a huge advantage. Prada makes to low-speed tacks before the start line, by which time, NZL60 is long gone. ITA45 crosses the line 18 seconds behind, moving slowly and on the wrong side of the course. That would turn out to be the highlight of the day for Prada. They actually appear to be sailing faster to weather, reducing Black Magic's lead to less than a boat length. That's when the wheels come off for Prada. They become obsessed with a plastic bag wrapped around the keel and frantically try to remove it. In the process, the bowman is struck in the head with the carbon-fibre kelp stick as they are readying it to floss the keel. He receives a nasty gash on his head and would later be removed from the boat.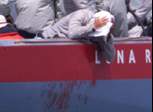 It is a sad but fitting picture to see ITA45's blood splattered hull. The story tells it all. At one point, Prada literally pulls the car over to the side of the road, parks it and gets out to inspect underneath it. In actuality, they send a crewman over the side who dives under the slowly-moving head-to-wind boat to remove the object. He gets the bag off the ballast bulb, only to have it catch on the wing. By the time the circus show is all over, NZL60 leads by 2:19 at the first mark. They never look back, and cruise to an easy victory, and a 2 - 0 lead.
---
Race 3 - February 26, 2000
Postponed Feb 23 due to light shifty winds (debatable, NZL conspiracy)...
A fairly even start in 12-14 knots of wind. NZL60 with a slight lead on the right side of the course. A furious tacking duel is initiated by Prada almost immediately. By the time it is over, they have combined for 35 tacks on the first beat to weather and the Kiwis have a 19 second lead. Prada would never get any closer, and Team New Zealand showed it is the faster boat in light winds, in medium winds, upwind and downwind. Even a ripped gennaker wouldn't slow them down.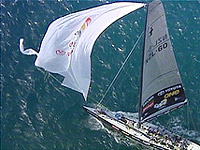 In then end, NZL60 crosses the line 1:39 ahead of Prada, and take a commanding 3 - 0 lead. This looks to be another sweep, or as a tribute to Black Magic, it's known as a "blackwash".
---
Race 4 - March 01, 2000 (Postponed from Feb 27)
After two postponements, race 4 finally takes place; unfortunately, if you're Prada. Despite promises of a new and improved, more aggressive team, Prada essentially lays down at the start, despite having the favoured end. They sail away from Black Magic, and cross the line with a deficit of a boat length, and less speed. Amazingly, halfway up the first beat to weather, Prada takes the lead and crosses ahead of NZL60. From that point on, it's all downhill. New Zealand leads by 30 seconds at the first mark, thanks mostly to a couple of unexplainable extra tacks by Prada. They never challenge again, falling behind by as must as 1:49. New Zealand crosses the finish line a full minute and a half ahead, and takes a commanding 4 - 0. The question now is not if Prada can win this thing, or even if they can win a race, but can they even lead around a mark, or stay within a minute of Black Magic. Yet another Blackwash Horizon Job. Look for this thing to end quickly and noisily tomorrow, as NZL60 looks to go into the record books as the first team to win (and lead around EVERY mark) TEN races in a row....
---
Race 5 - March 02, 2000
Might as well bolt the Cup down at the Royal New Zealand Yacht Squadron. It's not going anywhere, likely for a long long time. Five races, five starts, twenty-five mark roundings, five finishes. New Zealand wins each and every one of them. That brings the total to ten consecutive America's Cup wins, a new record. As with the first four races, this one isn't even close. To top it all off, this is such a "TEAM" that helmsman Russel Coutts and tactician Tom Schnackenberg aren't even on the boat, instead choosing to allow their heir apparents to bring the trophy back home. They look so convincing in winning, one wonders how they will ever be unseated. After race 4, Russel Coutts even hints that Black Magic could go even faster, and they have even more revolutionary improvements that they won't even pull out. Why bother showing all your cards and tipping your hand when the game is pretty much over. An amazing sight, as NZL-60 pulls away from Prada, once again. Let the celebration begin.....

---